About Us
We are ONCE, a German symphonic metal band from North Rhine-Westphalia, founded in 2012 by Alina Lesnik (vocals & lyrics), Frank Wypchol (keys, piano & orchestrations), Marco Paulzen (guitars, bass & grim vocals) and Alexander Hey (drums).
Our music is inspired by neo-romantic soundtrack music and includes typical elements of a classical Aristotelian drama, combined with heavy guitars and drums, entangled in a complex storytelling.


Visualizing Our Music
"After Earth" is our first full length - studio album which will be released on October 19th, 2018!
With "After Earth" we want to invite the listener to sit down, to imagine the world we created and to experience it as a piece of art, in which everything is connected and each detail refers to another. We were weaving a story based web out of music, lyrics, artworks and structure and you will find yourself bringing everything together, discovering our music while wandering through the protagonist's story.
In 2017 you already helped us to fund our first music video for the single "The Hour Of Eden's Fall" and now the time has come to continue visualizing the story of "After Earth"!
With this campaign we invite you to help us creating a second music video which gives you a deeper insight of our art.
What We Need & What You Get
By ordering our debut album "After Earth" and getting yourself some ONCE merchandise, you will automatically help us to fund our new music video and to continue the story, which already started with our video for "The Hour Of Eden's Fall".
While pledging for this campaign you will receive the perk you pledged for, even in case we won't achieve our goal of 4.900 Euro.
In case we reach our goal of 4.900 Euro, we will create a new music video and music video related perks will be unlocked for all backers. IF the goal is reached your name will be shown in the music video credits!
The collected money will help us to cover the costs for the merchandise and to realize our music video. We will pay the production company & the camera team, the location, the actors and cover additional costs for the video production. The amount includes taxes, Indiegogo and processing fees.
Our Goals
1. Offering you the possibility to order After Earth worldwide
2. Offering ONCE merchandise
3. By reaching 4.900 Euro: Realizing a SECOND music video!!!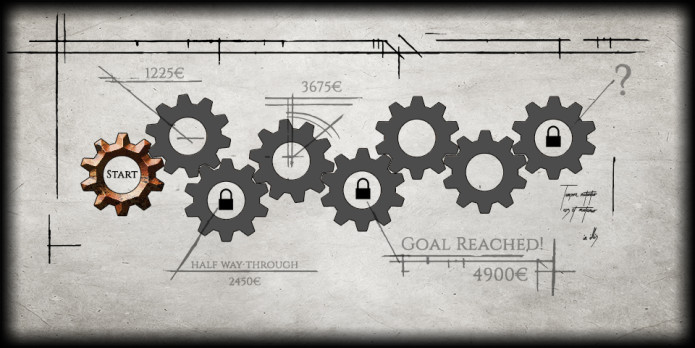 our Rewards
You can get:
Signed Postcard
Signed Album "After Earth" Hardcopy + Digital Download
Handwritten Lyrics
T-Shirt Logo Design
T-Shirt Album Design
Panorama Poster (60 x 20 cm)
Personal Cover sang by Alina
Personal Video Message from our Videoset
Gym Bag with ONCE Logo Design
Release and delivery
The album will be released on October 19th, 2018. All digital download links will be sent out immediately after the campaign has ended and the pledges are confirmed, but not earlier than the date of release. All ordered non-digital perks will be send out after the campaign has ended and after we have received the items from the manufacturer. Depending on where you live, you should receive your order between the end of October and November.
Cover song messages will be delivered in December.
Below we have listed the shipping costs for the different perks. We ship as savely packed letter or parcel. If you prefer an insured shipping method, please contact us so that can we work something out for you!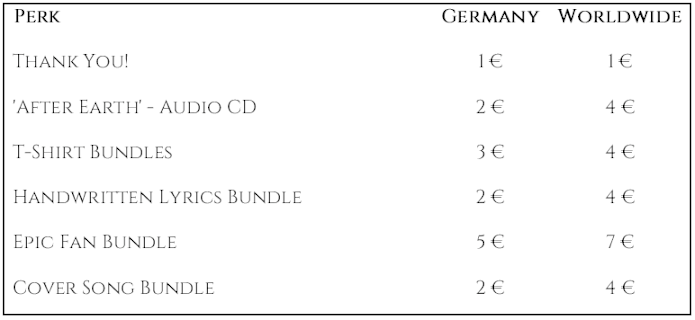 Other Ways You Can Help
Can't contribute? That doesn't mean you can't help!
If you can't join us on this campaign you can still help us by sharing our campaign with your friends and by spreading the word about ONCE!
So let's:
Make some noise about our campaign

& share it with your friends!
Check out our

social media pages
Share our music video

"The Hour Of Eden's Fall"